SpaceX launch scrubbed at T-minus 10 seconds
The launch of a SpaceX Falcon 9 rocket carrying a powerful communications satellite was called off just 10 seconds before blastoff Sunday because of an apparent glitch in the rocket's guidance and navigation system. SpaceX planned to make a second attempt Monday, assuming the problem can be fixed in time.
The California rocket builder was trying to launch its third Falcon 9 in just nine days following the
successful launches
of a Bulgarian communications satellite from the Kennedy Space Center on June 23, following by
the launch of 10 Iridium NEXT telephone relay stations
from Vandenberg Air Force Base, Calif., two days later.
Helicopter Circling the Globe Will Have Honeywell, Inmarsat Wi-Fi
Can a
father-son duo
successfully fly a Bell Helicopter 429 Global Ranger around the globe? At this point, the answer to that question is unknown. No duo of that description has circumnavigated the world in a helicopter, or any aircraft, before (though the feat itself has been done before). But in celebration of Canada's 150th anniversary, Bob Dengler and his son, Steven Dengler, along with retired 429 test pilot Rob "Dugal" MacDuff, are about to find out. And, thanks to
Honeywell's
Aspire 200, the rest of the world can find out, too, and follow their journey in real time.
Dubbed C150 Global Odyssey (C150GO), the project is a registered Canadian nonprofit, raising money for
True Patriot Love Foundation
and
Southlake Foundation
. The former supports military families in Canada, including community-based programs that address challenges that veterans face. True Patriot Love also contributes to the
Canadian Institute for Military and Veterans Health Research
. Southlake Foundation fundraises for
Southlake Regional Health Centre
in Ontario. The center serves more than 1 million people.
Space for Humanity seeks 10,000 citizen astronauts
To date, only 536 people have traveled to space and the vast majority have been men from a handful of nations. Dylan Taylor, a space industry angel investor and SpaceNews columnist, is eager to share the experience with 10,000 people through a nonprofit organization, Space for Humanity, that will pay for the trips.
"We are going to mint new astronauts from all communities," Taylor said June 27 at the annual NewSpace conference here. "We want to influence public policy and opinion… by changing the mindset."
Space for Humanity is beginning to solicit nominations through its website for people from diverse backgrounds to travel to space or near space and return to Earth to serve as ambassadors who can share their experiences.
This is what it takes to bring affordable internet access to everyone on Earth
Work begins on the world's largest satellite constellation and the launch of 900 crafts into space
In the hope of bringing affordable internet access to everyone on Earth, OneWeb and Airbus have started the production of a satellite mega-constellation.
The initial order will involve the production of 10 pilot satellites that will go through a comprehensive set of tests before becoming OneWeb's first fleet.
This pilot fleet is expected to be launched in just nine months, and if successful, will lead to the production of the world's largest satellite fleet of 900 satellites.
Long March 5 launch fails
The second launch of China's most powerful rocket, the Long March 5, ended in failure July 2, the second incident involving a Chinese launch vehicle in as many weeks.
The Long March 5 lifted off from the Wenchang Satellite Launch Center on the island of Hainan at 7:23 a.m. Eastern. The launch, broadcast live by Chinese media, appeared to go as planned, but those broadcasts ended prior to any announcement of separation of the rocket's payload, the Shijian-18 communications satellite.
China's state-run Xinhua news service announced about 45 minutes after liftoff that the launch had failed. Xinhua only said that an "anomaly" occurred during the launch, and that an investigation would take place.
New Flat Panel Satellite Antennas Hitting the Market
A pair of startups are poised to introduce radically new satellite antennas that have the potential to alter the look of military air, land and sea platforms.
Electronically steered flat panel antennas are intended to replace the round, parabolic receivers/transceivers that jut up from ships, command-and-control vehicles and aircraft.
"The low profile I think is going to be attractive to the government market," said Mark Daniels, vice president of new technologies and services for Intelsat General, a wholly owned subsidiary of Intelsat.
A satellite may be falling apart in geostationary orbit
In response to a query from Ars, the AMC-9 satellite's operator, Luxembourg-based SES, issued the following statement on Sunday morning:
In the early hours of 1st July, the SES Satellite Control reestablished contact to AMC-9. SES and the satellite manufacturer Thales are working around the clock to evaluate the status and define the next steps.
Tracking information received on 29 June had suggested that at least two separate objects were located in the vicinity of AMC-9. Their source has still to be determined. The new piece of information was included by Thales and SES in their investigations.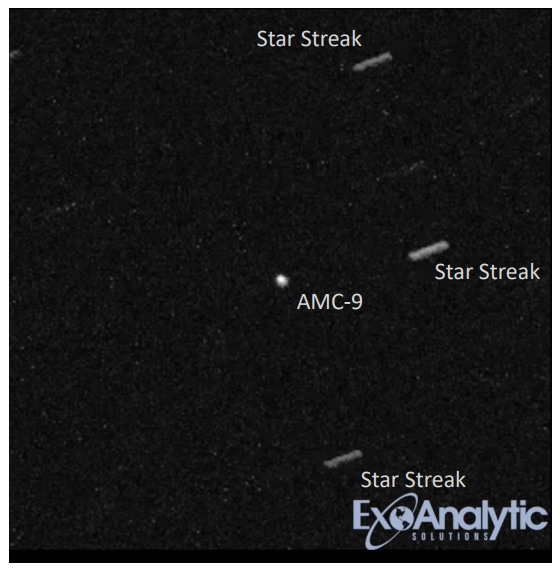 OneWeb Satellites Inaugurates Production Line for Its First Satellites
OneWeb
Satellites
inaugurated its assembly line in Toulouse, France to begin end-to-end validation, testing, and integration of its first satellites set for launch in just over nine months. OneWeb Satellites is a joint venture between OneWeb and
Airbus Defence and Space
, with its first order to include the production of 900 communications satellites for OneWeb's Low Earth Orbit (LEO) satellite fleet.
The 4,600-square-meters facility in Toulouse will serve to validate the production methods necessary to manufacture high-performance satellites, de-risk any potential issues, and lay the framework for the larger multi-line OneWeb Satellites factory near the Kennedy Space Center, Florida, according to the company. After having undergone a comprehensive set of tests, the initial 10 pilot and Toulouse-built satellites will become the first of OneWeb's fleet.