Inmarsat Completes First Satellite Test for European Aviation Network
The initial testing for the satellite connectivity portion of the European Aviation Network (EAN) is complete. According to
Inmarsat
, testing for the first Satellite Access Station (SAS) that will be part of EAN has been completed in Greece.
The SAS is located in the Greek town of Nemea and operated under an agreement with
OTE
, the largest telecommunications provider in Greece and member of the
Deutsche Telekom Group
. Engineers undertook rigorous performance and stability tests to verify the SAS' capabilities to serve as a reliable and robust gateway between Inmarsat's S-band satellite and the Internet.
SpaceX plans to launch every two or three weeks once Florida pad is running
Space Exploration Technologies Corp, better known as SpaceX, plans to launch its Falcon 9 rockets every two to three weeks, its fastest rate since starting launches in 2010, once a new launch pad is put into service in Florida next week, the company's president told Reuters on Monday.
The ambitious plan comes only five months after a SpaceX rocket burst into flames on the launch pad at the company's original launch site in Florida. SpaceX, controlled by billionaire Elon Musk, has only launched one rocket since then, in mid-January.
How does Wi-Fi work at 35,000 feet and why don't all airlines offer it?
For all its woes, air travel has always offered a brief digital detox – a precious few hours away from the squall of emails, messages and app notifications. But no more.
In-flight Wi-Fi is getting faster and cheaper, and is an increasingly common offering on budget and flagship airlines alike. "Sorry I missed your email – I was on a plane" is an excuse that simply doesn't cut it anymore. But how does in-flight Wi-Fi actually work?
To simplify, there are two ways for an internet signal to reach your device at 35,000 feet. The first is via ground-based mobile broadband towers, which send signals up to an aircraft's antennas (usually on the base of the fuselage).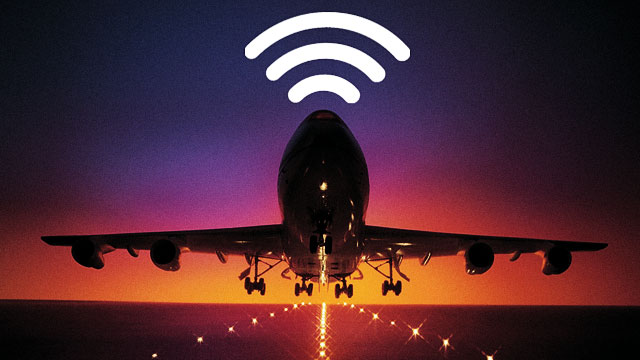 Boeing, NanoRacks to Enable More US SmallSats Deployed from ISS
Boeing
and
NanoRacks
will partner to develop the first privately funded commercial airlock, enabling the United States to potentially triple the number of small satellites it can deploy from the International Space Station (ISS) during a single airlock cycle. ISS prime contractor Boeing will build and install the airlock's Passive Common Berthing Mechanism, the hardware used to connect the pressurized modules of the ISS.
The NanoRacks Airlock Module, planned to be attached to the ISS U.S. segment in 2019, will increase the capability of transferring equipment, payloads and deployable satellites from inside the ISS to outside, significantly increasing the utilization of ISS, according to the companies. Currently, the United States uses the airlock on the ISS Japanese Experiment Module. This new commercial airlock will be larger and more robust to better handle increasing market requirements.
Scientists optimistic about prospects for LISA gravitational wave mission
A combination of scientific breakthroughs and technical accomplishments are making astronomers optimistic the European Space Agency will proceed with development of a space-based gravitational wave observatory.
A European consortium submitted to ESA in January a proposal for the development of the Laser Interferometer Space Antenna (LISA) mission for ESA's third large mission, or L3, competition. LISA is widely considered the leading candidate to be selected for that mission for launch likely in the early 2030s.
LISA, as proposed, will consist of three spacecraft in a triangular formation, each 2.5 million kilometers from the other two in an orbit around the sun trailing the Earth. The spacecraft would shine lasers at each other, with interferometers on each spacecraft detecting minute distance changes caused by passing gravitational waves.
New Kymeta mTenna now one step closer to getting airborne
The Kymeta mTenna Ka-band flat-panel antenna for aircraft is one step closer to production with news that a Ku-band version is being developed for use on VIP and civilian armoured vehicles.
Kymeta recently signed a deal with Aurum Security to develop a 70cm flat-panel terminal variant of the antenna for the mobile market.
Speaking at the Global Space Congress in Abu Dhabi, Bill Marks, Kymeta's Chief Commercial Officer, said that the Ku-band mobile version of the antenna is virtually identical to the aircraft variant and is working well.
GAO study reportedly raises questions about "defects" in SpaceX Falcon 9 engines
A draft version of the report notes that engineers have found cracks in turbine blades in the turbopumps of the engines. Those cracks, which have not caused problems on Falcon 9 missions to date, would still require a redesign for NASA to allow the vehicle to be used for crewed missions.
The report also identified issues with the parachute systems on Boeing's CST-100 Starliner vehicle. SpaceX, in a statement, said that
its engines are "robust" to such cracks
but is working on a redesign to eliminate them entirely and qualify the engines for crewed missions.
Standardizing Spacecraft: One Company's Mission to Cut Time to Market
Denver-based aerospace company
York Space Systems
is currently working with government and commercial customers to standardize spacecraft, hoping to slash both satellite price and time-to-market in the process. The company, which boasts alums from
NASA
,
Lockheed Martin
,
Orbital ATK
and
Ball Aerospace
, specializes in the mass manufacture of satellites for Earth sensing technologies and laser communication links, providing space entrepreneurs, governments and corporations with quick and affordable access to space.
"Ultimately, right now, space data is a frontier that is restricted by the economic viability of it, and while a standardized platform may not meet every need in every market, it can allow people to get to space, get there affordably and can have standard interfaces to know how they are going to do it," York Space Systems CEO Dirk Wallinger told
Via Satellite
.
Flightcell International Unveils its Tracking Technology Using Cellular IP
Flightcell International
has released its next-generation, high frequency, low-cost tracking technology using Internet Protocol (IP) over cellular. Cellular IP tracking provides more precise tracking by increasing the number of GPS positions sent from an aircraft. This is achieved at a significantly lower overall cost than traditional tracking, according to the company.
Cellular IP tracking uses cellular broadband data services and IP routing instead of cellular SMS or satellite data services. When out of cellular range tracking automatically switches to
Iridium
satellite and the reverse applies when a cellular network is available. When tracking via satellite the frequency of the position points automatically decreases to keep costs down.
France's Prometheus reusable engine becomes ESA project, gets funding boost
A French reusable rocket engine program is getting a boost from the European Space Agency, which is ready to sign a contract with Airbus Safran Launchers that would lead to an engine test three years from now.
A small team of engineers from Airbus Safran Launchers and the French space agency CNES have poured a few million euros since 2015 into a liquid oxygen and-methane-fueled reusable engine dubbed Prometheus. ESA leaders agreed during December's ministerial conference in Lucerne, Switzerland, to make Prometheus part of the agency's Future Launchers Preparatory Program, or FLPP.