Inmarsat Government Connects Antarctic Heard Island Expedition
Inmarsat Government, a leading provider of secure, global, mission-critical telecommunications to the U.S. government, today announced that it has successfully supported the 2016 Heard Island Project, a multidisciplinary expedition to a remote island in the Southern Ocean.
The purpose of this three-week expedition, undertaken by Cordell Expeditions, a nonprofit research organization based in northern California, is to provide new information about Heard Island's harsh volcanic environment and to validate satellite communications in severe, and extremely isolated, environments in the Antarctic.
The Heard Island Project's goal is to bring technology to challenges of worldwide need and interest. The results from this expedition will help scientists better understand the effects of climate change in polar regions and the ability of models to predict the consequences of actions or inactions in facing this challenge.
Globalstar's Spot used in 22 Rescues During 2016 Marathon Des Sables
A total of 22 participants in this year's
Marathon Des Sables
extreme running race received rescue services though the use of
Globalstar
's Spot Gen3 safety devices. Each of the 1,250 competitors ran the 250 km across the Sahara Desert with a Spot Gen3 on their backpack, allowing MDS race organizers, emergency support teams, sponsors, family and friends to precisely track each runner's location through a service from
WAA Tracking
, a Globalstar Value Added Reseller (VAR) partner and geolocation solutions specialist. The one-touch SOS button on SPOT Gen3 gave competitors an easy way to let organizers know if they got into trouble.
"This year's event was one of the toughest we have known, especially the first couple of days which saw extraordinarily high temperatures and fierce winds whipping sand around, reducing visibility and resulting in high levels of dehydration. The Spot Gen3's real-time tracking and SOS button ensured we could quickly help those competitors who were struggling, reducing the risk of them dropping out," said Patrick Bauer, CEO of MDS.
Luxembourg Invests to Become the 'Silicon Valley of Space Resource Mining'
PARIS—The Luxembourg government on June 3 reaffirmed and strengthened its backing for a homegrown space-mining industry, saying it would invest more than $200 million in research, technology demonstration and in the direct purchase of equity in companies relocating to Luxembourg.
In a demonstration of the depth of the political backing the spaceresources.lu project now enjoys, Luxembourg Prime Minister Xavier Bettel and Deputy Prime Minister Etienne Schneider addressed a press briefing following the initiative's first board meeting.
Betel and Schneider were flanked by two spacesources.lu board members, Jean-Jacques Dordain, former director-general of the 22-nation European Space Agency; and Simon Pete Worden, former director of NASA's Ames Research Center.
Blue Origin Joins NASA's Suborbital Research Flight Program
BROOMFIELD, Colo. — NASA announced June 2 that it has awarded a contract to Blue Origin to perform suborbital research flights as part of the agency's Flight Opportunities program.
Under the indefinite-delivery, indefinite-quantity contract, Blue Origin will be eligible to fly research payloads on its New Shepard suborbital vehicle. The contract has a maximum value of $45 million, although the actual value depends on the number of task orders for research flights awarded by NASA.
Blue Origin, which has identified research payloads as one of the key markets for New Shepard, has already been working to attract customers on its own, signing up several "pathfinder" customers who will fly payloads on early test flights. Joining Flight Opportunities, company officials said, opens up another way for those customers to fly on the vehicle.
Inmarsat Unveils Fleet One Global
Inmarsat has launched Fleet One Global, a service designed to offer basic voice and data connectivity to the maritime market
.
Fleet One Global is part of the Fleet One range of satcoms services developed for flexibility, reliability and simplicity, aimed at customers with low data needs looking for basic functionality, greater cost and usage control, with the reassurance of a trusted global commercial satellite network.
The plug-and-play service delivers 100kbps voice and data at one global rate, eliminating the need for ship owners to use a patchwork of different providers. Fleet One Global achieves 99.9 percent uptime worldwide, ensuring that ships are never out of range for voice calls, business emails, text-based crew emailing, electronic chart synching, updated vessel routing, weather forecasting and planned maintenance information wherever ships operate.
Musk Plans Human Mars Missions as Soon as 2024
BROOMFIELD, Colo. — A Mars mission architecture SpaceX Chief Executive Elon Musk will unveil in September will call for a series of missions starting in 2018 leading up to the first crewed mission to the planet in 2024, Musk said June 1.
In an on-stage interview at the Code Conference, run by the technology publication Recode in Rancho Palos Verdes, California, Musk repeated earlier comments that he would announce his architecture for human missions to Mars in September at the International Astronautical Congress in Guadalajara, Mexico.
That plan would start with the uncrewed launch of a Dragon spacecraft in 2018 on a Mars landing mission dubbed Red Dragon. SpaceX announced April 27 it would fly that mission working in cooperation with NASA, who will provide technical expertise but no funding in exchange for data from the spacecraft's Mars landing attempt.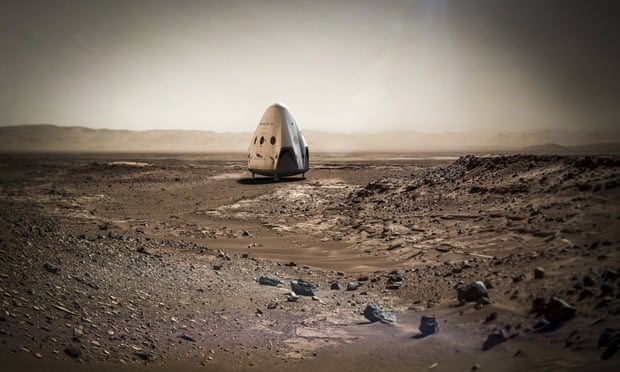 Iridium's Scott Scheimreif Talks Future Positioning, Tracking, Navigation Tech
Scott Scheimreif
, executive vice president of government programs at
Iridium Communications
, has joined other executives to discuss new positioning, tracking and navigation technologies with Investorideas.com, ExecutiveBiz
reported Friday
.
Investorideas.com
said Thursday
ABI Research
's Patrick Connolly and
Gopher Protocol
's Danny Rittman also participated in the discussion.
"Compared to [global navigation satellite system] signals like GPS, Iridium signals have much higher raw signal power as seen by a receiver on Earth, making them attractive for use in location applications where GNSS signals are obstructed, for example deep indoors," Scheimreif said.
Facebook Teams with Microsoft and Telefonica for High-Capacity Subsea Cable in the Atlantic
Following satellite capacity and equipment purchases with
Eutelsat, Spacecom
,
Hughes
,
SES and Gilat
,
Facebook
has now joined forces with
Microsoft
to build new terrestrial telecommunications infrastructure in the form of a subsea cable across the Atlantic Ocean. Named Marea, the cable will use eight fiber pairs to yield an initial estimated design capacity of 160Tbps — the highest capacity ever to cross the Atlantic, according to Facebook.
Telxius
,
Telefonica
's new telecommunications infrastructure company, will operate and manage the 6,600 km cable, which will be the first to connect the United States to southern Europe, from the data hub of Northern Virginia to Bilbao, Spain. The cable will then connect to network hubs in Europe, Africa, the Middle East and Asia. Telxius will serve as the operator of the system and sell capacity as part of its wholesale infrastructure business.
Orbital ATK Hot Fires Antares with RD-181 Engine
Orbital ATK
conducted a full-power "hot fire" test of the upgraded first stage propulsion system of its Antares medium-class rocket using new RD-181 main engines on May 31. Initial indications are that 30 second test, which took place at
Virginia Space
's Mid-Atlantic Regional Spaceport (MARS) Pad 0A, was fully successful.
The primary goal of the test was to verify the functionality of the integrated first stage, including new engines, modified Stage 1 core, avionics, thrust vector control and pad fueling systems in an operational environment. Orbital ATK accelerated the first stage engine transition from the
Aerojet Rocketdyne
-supplied AJ-26 to the RD-181 from
NPO Energomash
. The engine reached a number of operational milestones during the test, including full propellant loading sequence, launch countdown and engine ignition and shut down commands, as well as multiple throttle settings including full engine power. The test also validated the launch pad's operation, including propellant tanking and the use of the water deluge system to protect the pad from damage and for noise suppression.