Blue Origin Aces 4th Reusable Rocket Launch (and Landing) in Live Webcast
Billionaire Jeff Bezos' Blue Origin
launched and landed a reusable rocket
for the fourth time Sunday (June 19), with the typically secretive private spaceflight company making its first-ever live webcast of a test flight during the successful mission.
Blue Origin's unmanned New Shepard rocket and space capsule launched into the clear West Texas sky at 10:36 a.m. EDT (1436 GMT), carrying its crew capsule into suborbital space before both craft returned to Earth in separate landings.
New Shepard's booster made a pinpoint landing
near its launch site 8 minutes after liftoff, with the capsule touching down a minute lander
after descending to Earth under two parachutes
. Blue Origin's main goal for the flight was to test how the capsule would perform with just two of its three main parachutes deployed.
3-man Space Station crew comes back to Earth, as Soyuz craft lands in Kazakhstan
The International Space Station (ISS) crew have successfully landed back on Earth aboard Russia's Soyuz spacecraft capsule after spending more than six months in space.
Expedition 46/47 members European Space Agency (ESA) astronaut Tim Peake from Britain, NASA's Tim Chopra and Russian cosmonaut Yuri Malenchenko began their journey home Saturday morning, undocking from the ISS at 0551GMT.
The astronauts landed in south-central Kazakhstan at 0915GMT after spending 186 days on the International Space Station (ISS).
The return journey involves a
bumpy ride
back through the Earth's atmosphere. The Soyuz split into three parts after the
"deorbit burn,"
causing the orbital and service modules of the spacecraft to burn up on reentry.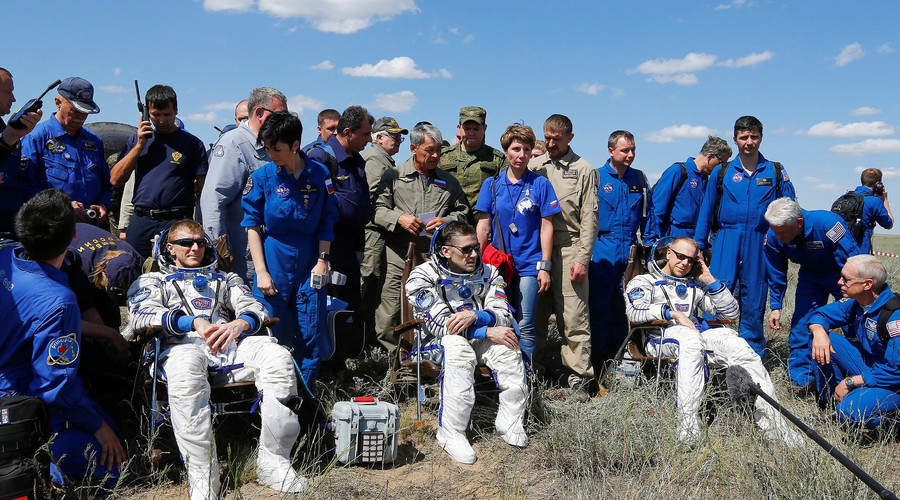 Shell Selects Globalstar Satellite Asset Tracking Solution
Globalstar Europe Satellite Services
announced that global oil giant
Shell
has deployed a satellite-based asset management solution in the Netherlands to securely manage its movable assets on land and at sea. By more closely and efficiently managing its high value assets and their associated test certification, Shell has achieved a positive Return on Investment (ROI) on the solution in just three months.
The Alltrack track and trace solution, provided by Globalstar's Dutch-based Value Added Reseller
Improvement-IT
, incorporates QR codes, Globalstar's SmartOne satellite asset managers and a cloud-based content management system. Alltrack has been integrated with Shell's internal mapping software utility to make it easy to precisely locate assets, while geo-fencing confirms that items are in the right place. The solution ensures that equipment test certificates are valid, eliminating paperwork while cutting time and costs as well as speeding up supply chain operations.
SpaceX Launches Satellites, Narrowly Misses Rocket Landing at Sea
SpaceX successfully
launched two satellites to orbit
today (June 15) but couldn't quite pull off its fourth consecutive rocket landing at sea in the process.
The first stage of the California-based company's
Falcon 9 rocket managed to hit its target
— a robotic "droneship" stationed in the Atlantic Ocean, a few hundred miles off the Florida coast — but wasn't able to stick the landing.
"Ascent phase & satellites look good, but booster rocket had a RUD on droneship," SpaceX founder and CEO Elon Musk said via Twitter during the liftoff. ("RUD" is Muskspeak for "rapid unscheduled disassembly.")
Iridium's SpaceX launch slowed by Vandenberg bottleneck
GILBERT, Arizona — Mobile satellite services provider Iridium Communications on June 14 said the launch of the first 10 second-generation Iridium Next satellites had slipped by another month, to Sept. 12 at the earliest, because of bottlenecks at the Vandenberg Air Force Base spaceport.
Iridium Chief Executive Matt Desch said the company still expected to launch all 70 Iridium Next satellites, on seven SpaceX Falcon 9 rockets, by late 2017.
Addressing a briefing here originally scheduled to mark the shipment of the first two satellites by truck to the launch base – the shipment will now be delayed a couple of weeks – Desch said satellite production and SpaceX readiness both had been ready for an August launch.
Watch British Astronaut Tim Peake Perform Dizzying Somersaults in Space
Tim Peake did 80 rapid-fire somersaults aboard the International Space Station (ISS) in an attempt to make himself dizzy — a plan the British astronaut joked could be the "worst idea I've ever had."
NASA astronaut Tim Kopra help spin the curled-up Peake, who wanted to see how well his body had adjusted to microgravity after nearly six months aboard the ISS. (You can
watch Peake spin round and round in the video here
.)
"Something that happens when astronauts first come into space is that they usually feel pretty rough for about the first 24 hours," Peake said before starting the experiment. This is because the body's vestibular system gets confused in space, he added. The fluid in the middle ear floats in
microgravity
, which doesn't jibe with the signals the eye sends to the brain, he explained.
Launch Contracts Scarce as Google Lunar Xprize Deadline Approaches
Moon Express
and
SpaceIL
are the only two
Google
Lunar Xprize competitors to have produced the verified launch contracts required to stay in the $30 million contest beyond 2016. A third competitor,
Astrobotic
, promises to have a launch contract secured by the end of the year. Company CEO John Thornton said June 9 that, once Astrobotic fills its manifest, it will secure a launch contract, likely with
SpaceX
. He said he was considering secondary options from other launch companies, but declined to provide specifics. He also declined to say how close he was to filling his manifest, but that Astrobotic has 10 deals toward "mission one" and is still booking payloads.
Google Lunar Xprize is a contest with $30 million in prize money for teams able to land a privately funded rover on the moon, travel 500 meters and transmit back high-definition video and images. The competition is also a race as the first team that successfully completes this mission will be awarded the $20 million grand prize. The second team will be awarded $5 million.
Marlink Provides Satellite Connectivity for MSC Cruises
MSC Cruises
has worked together with
Marlink
to launch a next-generation connectivity solution for its fleet with multi-band VSAT services. Working with Marlink, MSC Cruises will provide dynamic bandwidth to its 12 existing ships as well as the next-generation ships currently under construction, including MSC Meraviglia and MSC Seaside.
Luxembourg taking major stake in Planetary Resources' European business
PARIS — The Luxembourg government has agreed to purchase up to 49 percent of the equity in asteroid-mining company Planetary Resources' Luxembourg operations as part of the effort to make Luxembourg the nexus of space-based resource exploitation, an industry official said.
An announcement of the agreement was scheduled for June 13 in Luxembourg, the official said.
It was not immediately clear what the initial investment level would be beyond taking part in Redmond, Washington-based Planetary Resources' creation of a Luxembourg operation. Initial costs are likely to be modest, including administrative fees associated with incorporating in Luxembourg.
ULA Delta 4 Heavy Orbits NROL-37 Payload
Launch services provider
United Launch Alliance
(ULA) successfully orbited a payload for the
United States National Reconnaissance Office
(NRO) using a Delta 4 Heavy rocket on June 11.
The national defense mission marks the ninth ULA Delta 4 Heavy mission, currently the world's largest rocket, which featured a center common booster core along with two strap-on common booster cores. Each common booster core used an RS-68A liquid hydrogen/liquid oxygen engine producing 702,000 pounds of thrust. A single RL10 liquid hydrogen/liquid oxygen engine powered the second stage.
Aerojet
Rocketdyne
constructed both the booster and upper stage engines. ULA constructed the Delta 4 Heavy launch vehicle in Decatur, Alabama.
Aeromexico Launches Netflix Trial through New 2Ku Connectivity
Aeromexico
is launching a pilot program to provide complimentary in-flight access to streaming video network
Netflix
. Netflix members onboard select Aeromexico flights within Mexico, Central and South America will be able to stream Netflix programming on their phones, tablets and laptops at no cost June 17 and through October 17.
Gogo
's 2Ku satellite Wi-Fi system, which launched on five Boeing 737-800 aircraft in Aeromexico's fleet in April, is enabling the in-flight streaming trial.