New Horizons Probe's July 14 Pluto Flyby: Complete Coverage
NASA's New Horizons probe is about to lift the veil on Pluto. On July 14, New Horizons will perform the first-ever flyby of the faraway dwarf planet, zooming within 7,800 miles (12,500 kilometers) of its frigid surface. The close encounter will give researchers their first up-close looks at Pluto, which has remained mysterious since its 1930 discovery. LATEST VIDEO: Pluto Is Unexpectedly Large - New Horizons Mission
Update for 11 a.m. ET, Wednesday, July 15: Today's the day. After more than 3 billion miles and nine years of travel by the New Horizons spacecraft, NASA will unveil the most amazing images of Pluto ever taken in a webcast at 3 p.m. EDT today (1900 GMT). Here's our latest story: Amazing Pluto Flyby Images to Be Unveiled Today / You can watch the webcast live here
New Horizons will continue beaming flyby data home for months afterward, and it may cruise past a second distant object in 2019, if NASA approves and funds a proposed mission extension. Space.com's complete coverage of New Horizons' epic Pluto flyby appears below:
Read the full story here
'We Explore Because We Are Human': Stephen Hawking on Pluto Flyby
In a message from one icon of science to another, physicist Stephen Hawking posted a video message to Facebook this morning (July 14) congratulating the New Horizons team on the spacecraft's close flyby of Pluto.
Scientists, engineers and space enthusiasts around the world watched as NASA's New Horizons spacecraft, after a nine-and-a-half-year journey, raced past Pluto today at 7:49 a.m. EDT (1149 GMT). Among the spacecraft's many admirers is theoretical physicist and scientific celebrity Stephen Hawking.
"The revelations of New Horizons may help us to understand better how our solar system was formed," Hawking said in the video message (watch it below). "We explore because we are human, and we want to know. I hope that Pluto will help us on that journey."
Read the full story here
Philae Comet Lander Reawakens, Phones Home
PARIS — Europe's Philae comet lander, which for unexplained reasons had been silent since June 24, reawakened July 9 for a nearly uninterrupted period of about 20 minutes, sending signals through the Rosetta orbiter, the French and German space agencies said July 10.
The communications raised hopes that stable links between Philae and Rosetta, and then to ground controllers, would be established in time to allow the lander to provide data as Comet 67P makes its closest approach to the sun on Aug. 12-13.
Ground teams had sent commands to Philae that it switch on its CONSERT instrument, the Comet Nucleus Sounding Experiment by Radio Wave Transmission, which is designed to take soundings of the comet interior to derive its composition.
Read the full story here
Gogo Pushes New Tech for Aircraft Broadband
PARIS — Airline broadband connectivity provider Gogo Inc. said it looked at the Ku- and Ka-band product offerings of SES, Intelsat, ViaSat, Hughes, Inmarsat and others before deciding to launch its own proprietary 2Ku product, to be introduced commercially this year.
Chicago-based Gogo has contracted for capacity aboard Intelsat and SES satellites to introduce 2Ku, first on a Gogo-owned Boeing 737 test plane and then commercially later this year.
Gogo said it has more than 500 aircraft in various stages of being fitted with 2Ku antennas. In a June 25 presentations to investors, Gogo managers said that while they wait for the U.S. Federal Communications Commission (FCC) to issue rules on the allocation of the 14-gigahertz section of spectrum, they are pushing ahead with 2Ku worldwide.
Read the full story here
As SpaceX Investigates Falcon 9 Failure, NASA Downplays Effect on Space Station
WASHINGTON — While SpaceX struggles to determine the cause of a failure of its Falcon 9 rocket, NASA managers and other users of the International Space Station say the loss of the cargo on the Dragon spacecraft on that rocket should not have a major effect on station operations.
The Falcon 9 v1.1 lifted off from Cape Canaveral Air Force Station in Florida at 10:21 a.m. Eastern time June 28, carrying a Dragon spacecraft with more than 2 tons of cargo for the ISS. SpaceX reported no technical issues during the countdown, and weather conditions were excellent at the time of liftoff.
The first evidence of a problem could be seen two minutes and 19 seconds after liftoff, as a white cloud expanded from the Falcon 9's upper stage even as the rocket's first stage engines continued to fire. The rocket was soon enveloped in the cloud and, within 10 seconds, broke apart.
Read the full story here
Planet Labs Buying BlackBridge and its RapidEye Constellation
WASHINGTON — Planet Labs, seeking to accelerate its growth in the Earth observation market, announced July 15 that it is acquiring BlackBridge and its RapidEye constellation of satellites.
Planet Labs, headquartered in San Francisco, said it will acquire Berlin-based BlackBridge and its core assets, including the five-satellite RapidEye system of medium-resolution imaging satellites launched in 2008. The companies declined to disclose the terms of the deal.
In an interview, Planet Labs Chief Executive Will Marshall said that the acquisition was a strategic effort by the company to expand by tapping into the business partnerships BlackBridge has, as well as the company's large archive of imagery.
Read the full story here
Wild Milky Way Map Reveals Hidden Loops of Multicolored Microwaves
Currents of bold color swirling in the image above look like an impressionist's painting, but are actually a map of microwaves emanating from the Milky Way galaxy.
This vivid snapshot captures light radiating outward as charged particles zip through in the galaxy's magnetic fields. The low-energy light waves also reveal the presence of a ring of dust that cordons off a third of the sky.
This new microwave map of the galaxy comes from the European Space Agency's Planck satellite, which launched in 2009 to measure the microwave light left over from the Big Bang.
Read the full story here
SPOT Now Offers Pan-African Satellite Coverage
COVINGTON, LA (June 25, 2015) – Globalstar, Inc. (NYSE MKT: GSAT) today announced that its gateway in Gaborone, Botswana has gone live, enabling Globalstar and its subsidiary, SPOT LLC, to deliver affordable simplex coverage over the African continent.
This new gateway, in partnership with Broadband Botswana Internet (BBi), provides Globalstar's full line of simplex services, including its SPOT portfolio of affordable personal tracking and life-saving products and services.
Affordable Tracking and Safety Devices Now Available to Adventurers Across Africa
Highlights:
Globalstar now offers SPOT coverage across Africa with the activation of its newest gateway in Gaborone, Botswana
To date, SPOT devices have helped to initiative over 3,500 rescues worldwide
Outdoor enthusiasts, adventurers and remote workers can now use the affordable SPOT Gen3® safety device across the continent to stay connected with colleagues, friends and family and if needed, emergency responders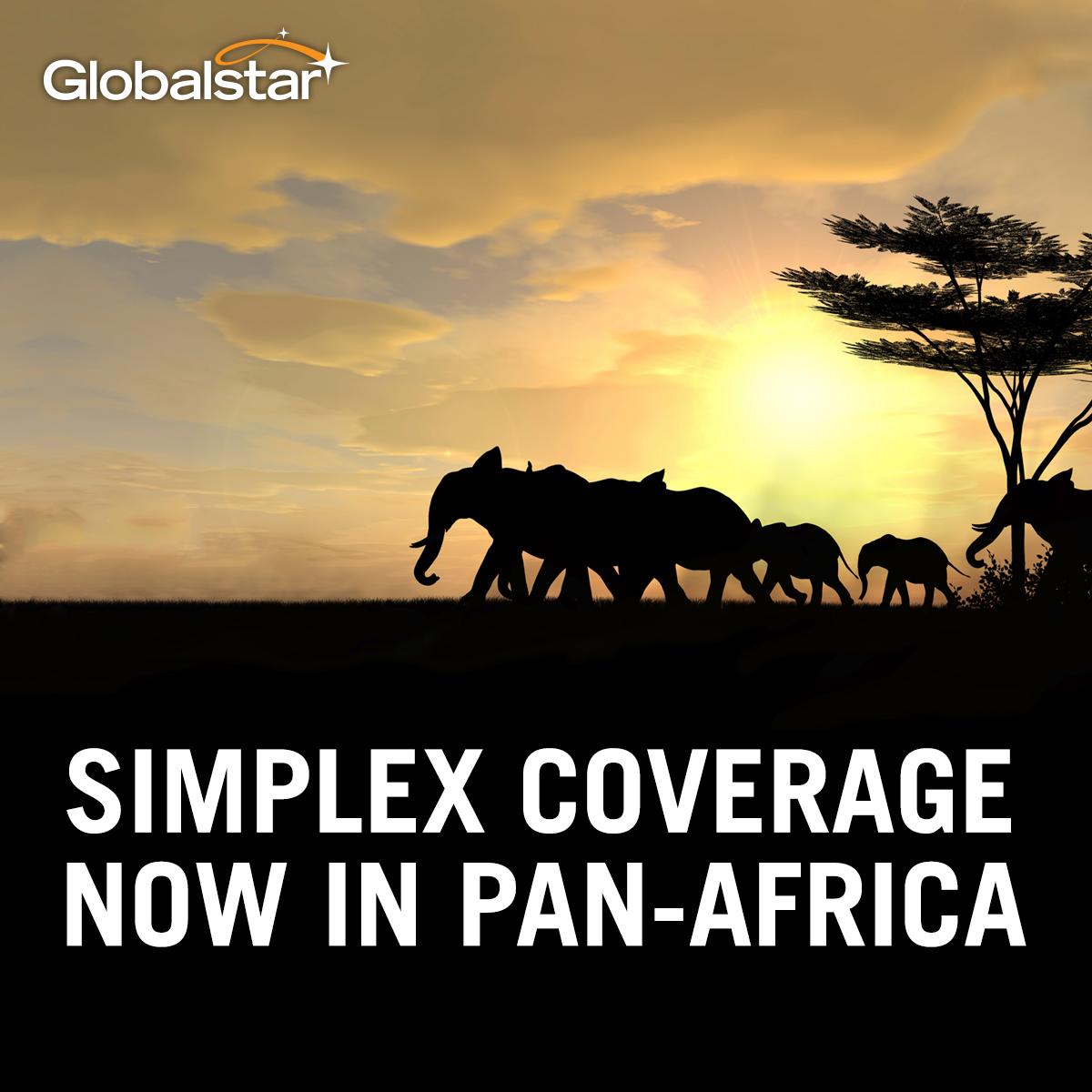 Read the full story here